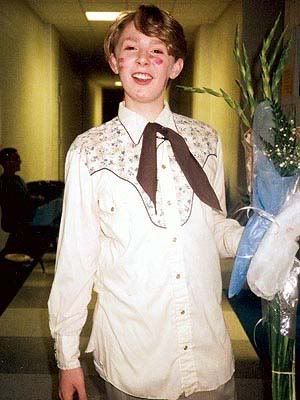 Believe it or not, I'm in possession of some of the little notes Faye used to put in Clay Aiken's lunch bag every day! Here is a small selection:

KINDERGARTEN:

To my big kindergarten boy,

Why didn't you wear the nice blue jeans and denim shirt that Mama laid out for you to wear this morning? I could hardly believe it when I saw you skipping out the backdoor wearing your cousin Nancy's PINK shorts and striped top. Them's girl-clothes, honey. Did you forget that you were having your school pictures taken today?

Love,
Mama


FIRST GRADE:

Dearest Clayton,

According to your teacher, you never spend recess playing soccer with the other boys. Instead, you prefer to stand on the sidelines and gossip with the little girls in your class. Make an effort to play with boys today; you may surprised how much like it!

Love,
Mama

SECOND GRADE:

Clayton, honey:

Don't let them mean boys at school hurt your feelings when they tease you about your big ears. Remember, Dumbo has big ears too and he's a movie star and also a ride at Disneyland. Maybe someday them mean boys will be watching you on a movie screen or havin' the time of their lives ridin' you!

Love,
Mama

THIRD GRADE:

Clayton,

I was sorry to hear about that boy in your class holding you upside down over the toilet and dunking you in. But remember: "The Lord sometimes takes us into troubled water not to drown us, but to cleanse us."

Think about that.

Love,
Mama


FOURTH GRADE:

Dear Clayton,

Sometimes I fear you are not adjusting well to your new step-daddy, Mr. Parker. Putting your skateboard in his path, throwing his electric razor into the tub while he's taking a bath, and giving him that chocolate (was it REALLY chocolate, Clayton?) cupcake you made in your E-Z Bake Oven all just REEK of barely suppressed anger. I know Ray may not be your favorite person, but he makes Mama happy, unlike that no good, lying, cheating, son-of-a-bitch -- may he rot in hell -- SPERM DONOR of yours that mama made the mistake of marrying many years ago. Anyway, please start treating Ray better. The Bible tells us we must respect our elders and show love to everyone.

Love,
Mama

5TH GRADE:

Clayton,

Did you break that vase in the living room??? No, don't even answer. We're not going to believe you whatever you say.

Love,
Mama

6TH GRADE

Dear Clayton,

Your step-daddy and I were thrilled to hear your running for student president at your little school. Hurry home after school tonight as I want to tell you about a wonderful plan I have to stuff the ballot boxes with your name.

Love,
Mama

P.S. I hope you didn't mind having a spam sandwich for lunch today; it was all we had in the house.

7TH GRADE:

Dear Clayton,

Now that you are back to school from your suspension, I hope you will remember to keep your feet off other people's desks!

Love,
Mama

8TH GRADE:

Dear Clayton,

When I saw you walking out the door to school today, I felt a little nostalgic. Who would believe I gave birth to that six feet tall boy with the size thirteen feet? Thank goodness I still have little Brett with me during the day to keep me feeling young. I love to play games with him, join him in making crafts, and help him look for Waldo in his "Where's Waldo?" books.

Who would believe any sane, fortysomething, American woman would spend her days looking for Waldo?!?

Love,
Mama


9TH GRADE:

Clayton,

Remember to hurry home from school today. We need to do a final fitting on your Cher costume.

Love,
Mama


10TH GRADE:

Clayton,

I'm not sure I really believe you accidentally ran over Fluffy last night. Brett said it looked like you deliberately steered the car in her direction. Now this afternoon I want you to come directly home from school -- NO GLEE CLUB, NO DRAMA CLUB, NO STANDING AROUND GOSSIPING WITH YOUR LITTLE GIRLFRIENDS -- and scrape the remains of that poor kitten off your front tire so we can give it a proper Christian funeral in the backyard. We don't want the neighbors calling the ASPCA again, like the time you ran over your pet goat with your bicycle.

Sometimes I wonder about you.

Love,
Mama


11th GRADE:

Dear Clayton,

Your step-daddy is not happy with you. This morning when he logged onto his computer to check the stockmarket, he could tell you had been using his computer without permission late last night after we'd all gone to bed. Please don't do that anymore!

Your lovin',
Mama

P.S. Who are "valleyprettyboy" and "skippermagee" and why was the keyboard so sticky this morning?


12TH GRADE:

Clayton,

Have you given any thought to who you'll be taking to the prom? I know you still think girls are "icky" and going to the prom will mean you have to take a bath or shower beforehand, but it would make your stepdaddy and me SO PROUD. Tell the "lucky girl" that I'll even do up her hair before the big night.

Love,
Mama

P.S. Even if you don't go to the prom, it still might be a good idea to take a bath or shower once in a while.


Thanks to Calliyuck for a VERY amusing blog!