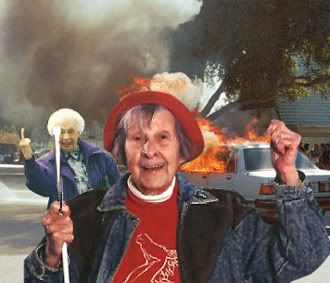 Over the past few days, rising tensions at Clay Aiken's OFC have erupted to full blown riot.
We at the Clay Aiken Fraud Squad bring you the exclusive pictures of the battle as it went down.
Viewed in order, you will see how quickly the situation deteriorated.


The sickening sounds of hip bones snapping, girdles tearing, and the echo of hurled bottles of Centrum Silver, Ensure and Jean Nate punctuated the air as the bloody battle raged.
Eventually the mods and admins at OFC donned protective riot gear and took action.
They were armed with night sticks, mace spray and tranquilizer guns which all proved to be futile.
It was only when the mods and admins took out the heavy weaponry of peppering the mob with diversionary Twinkies and Combo's and boxes of Franzia White Zinfindel that there was a momentary lull.
At that point, with the insurgents distracted, the admins and mods
prevailed and the ruckus was contained and the message board was put on lock down until tempers on both sides cool.
"06/07/07 : Important Information Regarding OFC Message BoardBy Team ClayDue to reports of extensive unrest and disrespect amongst members that has been carrying on for several weeks, the Official Fan Club Message Board will be shut down until further notice. Please note that should tensions continue on other areas of the fan club,

severe consequences

may occur. If you try to log in to the board you should see a message reading, "Sorry, the board is unavailable at the moment. We will be back soon..."We appreciate your understanding in this matter."
Holy Shit!!! SEVERE CONSEQUENCES!!! That made me shiver a little just reading the words! What's next? Tear gas grenades and rubber bullets? Anthrax?? Nuclear weapons???
Clay Aiken? Are you proud of the conflict that your policy of never addressing the controversies you repeatedly find yourself in has wrought?
And what is wrong with the Claymates that they get so out of control and can't control their anger and tempers?
They should take a lesson from us here at the Fraud Squad.
We strive to discuss truth and nothing but the truth (with a little humor thrown in here and there) and we all get along pretty well for the most part.
When conflicts arise here among posters, they are often resolved with civility, mutual respect and minimal hurt feelings. This stems from this blog being about truth.
The truth should not be something to be feared, but at the Clay Aiken boards, the truth seems to be the scariest thing imaginable.
Claymates, take a lesson from us so called "haters". Can't you all just get along?
Clay Aiken? Time to step up and do something.
Our correspondents here at Fraud Squad will be keeping you up to date on the unfolding events with comprehensive coverage!
Stay tuned!!